I am a worrier. I always ask myself 'what if?' This means that I have the habit of making lists, especially when I travel. It calms my mind and makes me feel in control. So be warned, at least one list is central to my Hong Kong story!
So why did I come to Hong Kong? I'm an English teacher, working in Beijing, China for my New Zealand employer. My visa is a business visa, valid for a total of 180 days. However, those 180 days must be broken into stays no longer than 90 days each. Therefore, I had to leave mainland China and then come back in to be able to have the second lot of 90 days on my visa. In English, this is often called the 'visa run'.
Visa runs aren't really holidays. They are a (sometimes inconvenient) fact of life for many people around the world working on long term business visas. But what does this have to do with making a list? Everything! I was so busy working and enjoying Beijing that I didn't really put much thought into planning Hong Kong. In truth, although I love travel, this trip was a little bit of an inconvenience, even though it was fully paid for by my company.
I arrived in Hong Kong late on a Friday night. I took a taxi to my hotel and fell asleep exhausted, only to wake up at 7 am the following Saturday, wondering what I was going to do for the next two days. I had no plan. My hotel was basic – there were no guest computers. I had my smartphone, but no SIM card for 3G. Fortunately, there was free WIFI, so I used my smartphone to make a list.
A list! I was saved! I googled Hong Kong activities and found this website:
It has a list of 45 things to do in Hong Kong as well as a description of each one. But 45 things to do in two days are too much. I made my own list, based on the website:
Hong Kong Island
• Ride the Star Ferry
• Ride the tram
• Take the mid-levels escalator
• Take the funicular to the top of Victoria Peak
• Visit Stanley Market
• Visit Shek O Beach
• Walk around the central shopping area
• Eat Dim Sum
• The zoo (?)
• Ocean Park Amusement Park (?)
• Hiking (?)
Those with a question mark I regretfully decided would take too much time. My aim was to do as many of these things as I could in ONE day! The next day I planned to spend more time in Kowloon instead.
Here's my Kowloon list:
Kowloon and the New Territories
• Temple Street night market
• Festival Mall (?)
• Ladies Market and Jade Market
• Yuen Po Street Bird Garden and the Flower Market
• Sky 100 Tower view
Did I want to go to a Mall? I decided 'no' as Kowloon's attractions already include several famous markets.
My lists were ambitious, but I had plenty of enthusiasm. There were just two (small) problems.
1. I had no idea how to travel between each of these activities
2. I had no idea of how large or small Hong Kong and Kowloon actually were.
Maybe I was being unrealistic for a two day visit?
As good fortune so often happens in life, as I walked out of my hotel onto Nathan Road in Kowloon, I walked straight into a sales lady for The Big Bus Company. Problems instantly solved!
Website:
www.bigbustours.com/eng/hongkong/default.aspx
I could choose to buy the one day Premium Tour (HK$350/NZD$61/TL84)
Or
The two day Deluxe Tour (HK$420/NZD$72/TL101)
There was a choice of routes:
• The Hong Kong Island Tour
• The Kowloon Tour
• The Stanley Tour
• The Night Tour
To my delight, these tours covered almost everything I had on my list. Bye bye list! Hello Big Bus Tour! The two day Deluxe would be everything I needed, including pre-paid tickets for the following:
• Peak Tram and Sky Terrace Admission (on Victoria Peak)
• 4 one-way Star Ferry tickets (enough for two days)
• A Sampan Cruise (traditional fishing boat)
• A Star Ferry Harbour Cruise
Big Bus Tours are hop-on, hop-off tour buses, with new buses coming every 30 to 45 minutes. They suit independent travellers and are at the cheaper end of the tour bus options for Hong Kong (Some hotels offer tours more than five times more expensive). You can choose which tour you want to do, or take them all.
This is how it worked out for me:
Saturday
• The Hong Kong Tour/ tram to Victoria Peak (Basic time 1 and ½ hours)
• The Star Ferry Harbour Cruise (1 hour)
• The Night Tour (Basic time 1 hour)
Sunday
• The Stanley Tour /Sampan Cruise (Basic time 2 and ½ hours)
• The Kowloon Tour (Basic time 1 and ¼ hours)
I had always thought that Hong Kong was a huge city, based on the population of around 7 million people. In fact, the city itself is tiny – it would be possible to walk from one end to the other in less than two hours, if you really wanted to. Kowloon is a little bigger, but not much. Again it would be possible to walk the length of Kowloon in a couple of hours. They are cities that go up instead of out.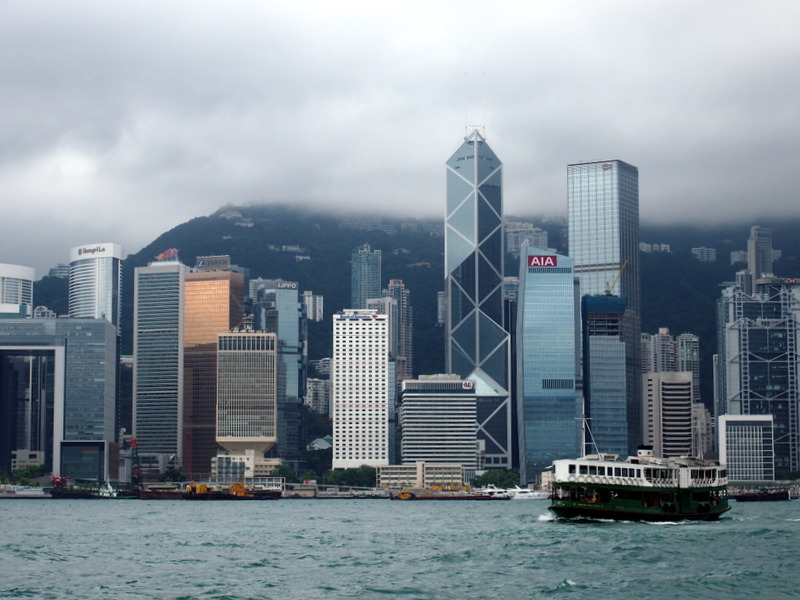 Crossing Hong Kong Harbour on the Star Ferry
What all this means is that it is extremely easy to have a very good time, and see and do many things, all in just 1 or 2 days. I was able to see almost everything I wrote on my first list and although I was careful with time, I never felt like I had to hurry. This was an unexpected pleasure for me.
But I am not finished yet. The details of my experience at each place I am more than happy to cover in another story.