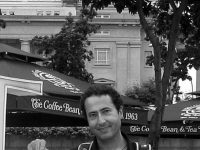 Kemal Kaya
kemal@yoldaolmak.com
+90 5334340779
İzmir, Turkey
Dr. of Veterinary Medicine
Independent Writing and Editing
Education
Maltepe University
Economic and Managerial and Social Sciences, Marketing MBA Istanbul, Turkey
October 2008 – March 2010. See master thesis.
Anadolu University
Knowledge Management Eskisehir, Turkey, October 2001 – June 2003
Firat University
Veterinarian Faculty, Elazig, Turkey, October 1987 – June 1992
Skill and Attributes
In 2009 my life changed in ways that many of my friends and family in Turkey still don't truly understand. After 14 years working as a salesman, I found myself without a job. My dream of travelling to New Zealand to improve my English came true, but this was only the beginning. I wandered Australasia, Indonesia, South East Asia and the Middle East, blogging to share my physical explorations, internal growth and to encourage other people to see the world in a different way.
Photography has always been an important part of the way I express myself, and show my passion for the world around me. On its own or in combination with my writing, I want to be able to move people with the images I capture. This desire to share what I experience is what I want to do with the rest of my life: travel and explore new places and then share with others through my writing and photography in the hope of inspiring them to experience something new.
Travel Writer, Travel Blogger & World Explorer
Expanded economic and cultural views while exploring 11 countries in 23 months of extensive travel.
Contributed travel articles to leading lifestyle and travel web sites and blogs.
23 months of travel to South East Asia, Oceania and Middle East from August 2010 to until June 2012.
Created, launched and hosted the travel website yoldaolmak.com.
Extensive international travel background, comfortable working with and in different cultures.
Work Experience
Independent Writing and Editing
Travel Writer, Founder yoldaolmak.com, gezievreni.com, gezievreni.com 2011-
Pfizer Pharmaceutical Co., Izmir, Turkey
Medical Sales Representative, 1996-2009
Mitasan A.Ş., Izmir, Turkey
Computer Department Head, 1995-1996
Courses
Retail District Management / Project Management Pfizer 09.02.1998 – 12.02.1998 (5 Hours)
Negotiation Skills / Creative Problem Solving Pfizer 04.07.2001 – 04.07.2001 (8 Hours)
Time Management / Stress Management Pfizer 02.07.2001 – 03.07.2001 (8 Hours)
Successful Communication with Emotional Intelligence (NLP) Navitas 01.10.2009 – 03.10.2009 (20 Hours)
Social Styles / Presentation of Advanced Techniques Pfizer 01.10.1997 – 02.10.1997 (8 Hours)
Interests and Activities
Writing, Blogging, Traveling, Tennis, Photography
Languages
Turkish, English